Then I met and married my 2nd husband and his 3 sons moved in. How many ways can I say O.V.E.R.W.H.E.L.M? My sewing machine was replaced with a glue gun and iron on tape.
Now that the boys are grown, I still am not sewing. But take a look at this great no-sew projects. They're so quick & easy, my sewing machine just may stay packed up!
Check these darling curtains out. Totally No-Sew! Really. Maryann @
DomesticallySpeaking
shows you how to create them. I had to email her because I couldn't believe the velvet on the bottom would hold, but it has!
Maryann also hosts a great painting
linky party
every Wednesday. Check out all of the fun projects today.
Here's another great curtain tutorial. Michelle @
SweetSomethingDesign
just added some turquoise ribbon to store bought panels, but what a difference it made.
How about a no-sew pillow for outdoors? Jess @
FrugalwithaFlourish
gives great instructions for this pillow. I'm headed to the fabric store this weekend to check out their outdoor fabrics. I have no excuses now!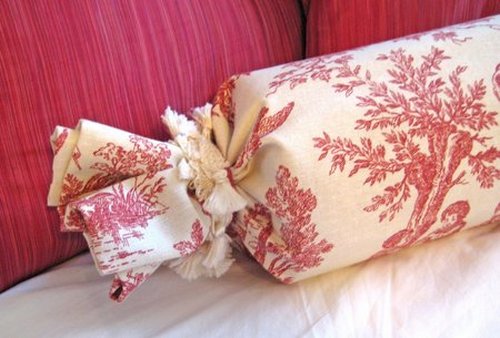 Kim @
Everything Etsy
made this darling accent pillow in less than 10 minutes! Some foam, some fabric, and tie it up. I'm loving the red toile too!
I have a glue gun, iron tape, and stacks of fabric. I've got to try one or two of these projects. How about you? Do you sew? What fabric project are you working on?
Colleen